Newsletter
October 2017
Classified Ads
0000-00-00:
We are seeking a highly-organized energetic public relations professional to join the Crystal family. Crystal's Public Relations Specialist will collaborate and work cross-functionally across all areas of public relations including media relations, events, executive communications, social media and charity donations.
WHO WE ARE:
Since the beginning, Crystal has been the standard-bearer for excellence in luxury travel, remaining the undisputed choice among the savviest world travelers. Today, we are redefining it altogether, expanding the possibilities for our guests with choices, experiences and luxuries unmatched in the industry. By Ocean, River, Yacht, Expedition and Air, each Crystal Experience is designed to showcase the world and its wonders in the most remarkable ways.
Only the world-renowned Crystal Experience offers an unwavering, unparalleled standard of excellence and luxury across four distinct cruising options: Crystal Cruises, the World's Most Awarded Luxury Cruise Line; Crystal River Cruises, the World's Most Luxurious River Cruise Line; Crystal Yacht Cruises, offering boutique luxury and bold adventure in the world's most elite harbors; and the upcoming Crystal Yacht Expedition Cruises, taking Crystal's acclaimed elegance to the farthest reaches of the world. Crystal has been recognized with top honors in the Condé Nast Traveler Readers' Choice Awards for a record 26 years.
ESSENTIAL JOB FUNCTIONS:
Specialist duties include:
Proofreading and overseeing the final distribution of press releases and press kits to media and uploading of press materials to media center on website. Proofing Crystal Insider Blog.

Maintaining and ensuring that all information is current on the Media Center.

Making extensive travel arrangements for media and external partners, managing media bookings and providing department with updated travel itineraries and confirmations.

Arranging onboard clearance and accommodations when required.

Escorting media trips as needed.

Producing Public Relations Department media coverage reports and maintaining media lists.

Working with both PR and Social Media agencies to research, provide copy and information as needed to meet deadlines.

Assisting Social Media Agency with editorial calendar as well as ideation and monitoring social media sites.

Managing Cruise Donation Program including receiving of requests, organizing event attendance, facilitating event signage and materials and liaising with charities.

Coordinating special events including planning, budgeting, reports, tracking, etc.

Answering phones.

Coding and processing invoices, tracking monthly costs and providing department head with recaps.

Maintaining department files/records.

Handling related projects and assignments as assigned.
INCIDENTAL JOB FUNCTIONS:
Plan meetings as assigned

Plan department events/meetings as assigned

Other duties as assigned
REQUIRED QUALIFICATIONS, SKILLS AND EXPERIENCE
EDUCATION:
College degree required

Marketing, Communication, Journalism or English major is helpful
EXPERIENCE
2 or more years in Corporate Communications role or PR agency
SKILLS:
Proficiency of Microsoft Word, Excel, PowerPoint, and MS Outlook.

Understanding of HTML and WordPress a plus.

Technical database and event software understanding a plus.

Basic understanding of standard computer software.

Strong written and verbal communication skills.

Must be detail-oriented and have strong organizational skills.

Must possess a positive, team-player attitude.

Calm demeanor under extreme pressure and deadlines.

Must be able to work overtime as projects require.

Able to perform multiple duties at once.

Self-starter, able to work with little supervision.
All Applications should apply through the Crystal Cruises Career Portal.
2020-02-23: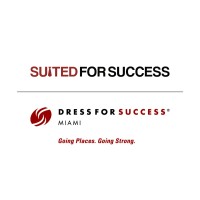 Suited for Success Miami - Social Media Volunteer

Volunteer opportunities will be located at the Suited for Success office at the Culmer Center, 1600 NW 3rd Ave., Suite 111, Miami, FL  33136. All internships are unpaid for experience only, and can be adjusted to a student's strengths/interests. To apply, send a cover letter, resume, and 2-4 content samples (blog/social media posts, campaigns, videos, etc.) to Executive Director Sonia Jacobson at [email protected].

Description
Established and small nonprofit is looking to bring on a social media volunteer to support our social media and marketing efforts. The assignment will include one day a week in the office (10:30am – 2:30 pm; 4 hours) plus up to 4 hours a week from home or at off-site events outside of office hours. This position reports to the Chief Operating Officer. Duration of assignment is a minimum of 3 months with option to extend.
Responsibilities                   
Create and curate content for Suited for Success / Dress for Success Miami social media profiles (Facebook, Instagram and Twitter), including photos, graphics, videos, and copy, according to organizational standards.


Help manage social media posting schedule to achieve optimal engagement, awareness, and fundraising goals.


Requirements
Strong writing and communication skills. Experience with mission-driven campaigns a plus.
Good eye for compelling visuals and basic photography, video, and graphics skills (such as mobile photo apps, iMovie, Canva)
Social media management experience (Facebook, Instagram, Twitter).
Experience with email marketing systems (Mailchimp) and Wordpress CMS a plus.
Must have own transportation to office and/or events and reliable cell phone/internet access.
About Suited for Success / Dress for Success Miami
Founded in 1994, Suited for Success (SFS) was started to help welfare recipients enter the workforce by providing them with appropriate clothing for interviews and jobs. The organization expanded to serve youth (since 1998) and men (since 1999). Experience quickly showed that business clothing is essential, but not sufficient to get and keep a job, so SFS created tailored workshops on job interview readiness, professional image, communication skills, and business etiquette.  Since 1994, Suited for Success has served more than 60,000 individuals with job training and clothing to support their job search needs and help them secure employment. Its women's program, Dress for Success Miami, is an affiliate of Dress for Success, which has more than 140 locations in 20 countries. Learn more at http://www.suitedforsuccess.org/.